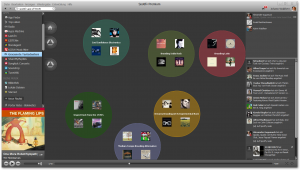 Both companies present the future of navigating digital music collections with a new Spotify app prototype at the ISMIR conference.
Porto/Vienna/Emeryville, 8th October, 2012. Spectralmind (http://www.spectralmind.com) und Gracenote (www.gracenote.com) will give an insight into the future of selecting and listening to digital music at the 13th International Society for Music Information Retrieval Conference (ISMIR) in Porto, Portugal. Both companies will present a demo-app for the Spotify player, which personalizes music for every user, based on their musical tastes. Navigation is done intuitively using a multi-level graphic display, making lists obsolete. The app's additional "Discovery Mode" takes the consumer on a musical journey. The user will not only hear songs he or she already knows, but will be offered music from a catalog comprising 18 million music titles – all adapted to the user's individual tastes and moods. The presentation of the demo app for Spotify is the first time that Spectralmind has made an app for notebooks and desktop stations, following a series of music apps made for iOS.
The world is getting a glimpse into the (near) future of music consumption, through the cooperation between Gracenote, a Sony subsidiary and the world's largest provider of music metadata, and Spectralmind, the leading provider of intuitive graphic media interfaces. Rigid, random music categorization in lists is history. Instead, the user's music collection will be interpreted intelligently using software and intuitively arranged in personalized clusters that are based on their musical tastes.
The application first analyzes the user's listening history and preferences, and then clusters them into multiple tastes using a rich array of musical attributes provided by Gracenote, including genre, era, mood, artist type, and more. These taste clusters will be named according to the musical attributes represented within them (such as "Energetic Anxious Indie Dance" or "Arousing Groove Hip-Hop/Rap by Male Artists), and will provide an intuitive and easy way to navigate ever-expanding music catalogs.
These personalized musical taste clusters will be displayed as different-colored bubbles, and not in lists. These bubbles provide several levels into which users can zoom smoothly. Each level provides more information and more refined music recommendations – always based on the initial musical taste cluster. The songs can be played at every level of the player, of course.
Musical Journey in "Discovery Mode"
Once the user activates the app's "Discovery Mode", he or she will go on a musical journey based on the favored taste cluster. The app takes music from a Spotify-catalogue that includes millions of songs – an almost inexhaustible supply of new, undiscovered music for the listener.
"The colorful bubbles that provide more details at every level are perfect for choosing music depending on one's feeling and mood," says Thomas Lidy, CEO of Spectralmind. "The visually appealing display makes listening to music more emotional, intuitive and playful again – and we offer an entirely new experience in listening to and discovering music. The spreadsheet-like list displays seem really anachronistic in the age of touch screens and music from the cloud."
Gracenote delivers the music identification technology and rich music attribute metadata, as well as the clustering technology used to analyze and group the user's listening history into personalized taste clusters, and the recommendation technology to generate Spotify playlists based on these taste clusters.
The Spotify-app presented by Spectralmind and Gracenote at the ISMIR is a functional prototype, providing a preview into the current technological and visual possibilities of music consumption. The exact time when this technology and application will be available is still to be disclosed.
About Spectralmind:
Spectralmind is a technology leader in the field of media intelligence. Spectralmind offers fully fledged media discovery solutions in both consumer and professional markets. The solution stands out by its unique combination of intuitive visual interfaces and advanced content discovery technologies to provide the latest in media discovery and content recommendation. The company's proprietary audio matching engine is capable of suggesting similar music titles based on a song's acoustic content and a user's preferences. The technology is used for media discovery in a wide range of domains, such as music and video portals, smartphone and tablet apps and professional media solutions.
The company's vision is to revolutionize the media discovery space through its unique combination of intelligent content discovery and visual user experience.
About Gracenote
A pioneer in digital media, Gracenote, Inc. provides music and video content and technologies to the world's hottest entertainment products and brands. The company's partners in the entertainment community include major music publishers and labels, prominent independents and movie studios and television networks. A wholly owned, independent subsidiary of the Sony Corporation of America (SCA), Gracenote has offices in Tokyo, Munich, Berlin, Seoul, and Taipei with worldwide headquarters in Emeryville, California. For more information, follow us at @GracenoteTweets and www.facebook.com/PoweredbyGracenote.
Spectralmind online: http://www.spectralmind.com/
Sonarflow App: http://www.sonarflow.com
Sonarflow on Facebook: http://www.facebook.com/Sonarflow
-
For inquiries please contact:
i5comm for Spectralmind
Bernhard Lehner
Tel.: +43 664 439 86 09
E-Mail: sonarflow@i5comm.com